Welcome to the world of poker, where every hand is an adventure waiting to unfold. If you're new to the game or a seasoned player, you've likely encountered the age-old question: online poker or live poker? In this comprehensive guide, we'll break down the advantages and disadvantages of both to help you decide which poker platform suits you best.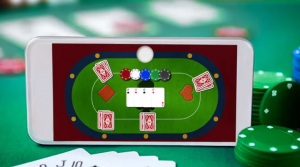 Convenience and Accessibility
Online Poker
Online poker offers unparalleled convenience. You can play from the comfort of your home, your favourite coffee shop, or even during your daily commute. All you need is a computer or mobile device and an internet connection. It's accessible 24/7, allowing you to jump into a game whenever the mood strikes.
Live Poker
Live poker, on the other hand, provides an immersive casino atmosphere. It's a social experience that allows you to interact with fellow players, read physical tells, and enjoy the sights and sounds of a brick-and-mortar casino. However, you'll need to plan your trips to casinos, adhere to their schedules, and sometimes endure long waits for a seat at the table.
Game Variety and Stakes
Online Poker
Online poker platforms offer a vast array of game types, from Texas Hold'em and Omaha to less common variants like Razz and Badugi. You can easily find tables with your preferred stakes, whether you're a casual player or a high roller. The online world never sleeps, so you'll find action at all hours.
Live Poker
Live poker in casinos often focuses on popular variants like Texas Hold'em and Omaha, with fewer options for niche games. Stakes may be higher, and it might be challenging to find low-limit tables during peak hours. However, if you're seeking prestigious tournaments, live events like the World Series of Poker (WSOP) offer unmatched excitement.
Player Interaction
Online Poker
Playing online, you'll chat with fellow players via text. While it lacks the nuances of face-to-face interaction, it can be a more focused and strategic environment. Online players often concentrate on the game without the distractions of live poker.
Live Poker
Live poker thrives on reading opponents' body language and detecting their tells. It's a social game where you can engage in banter and mind games with your tablemates. However, this requires a sharp eye and a solid understanding of human psychology.
Speed of Play
Online Poker
Online poker is known for its fast-paced action. With automated dealing, there's no waiting for the dealer to shuffle and distribute cards. You'll play more hands per hour, which can be advantageous for experienced players looking to capitalize on their skills.
Live Poker
Live poker is generally more relaxed, with a slower rhythm. The physical aspects of dealing and betting take time, allowing for deeper thought and strategic planning. If you enjoy a leisurely game, live poker might be your preference.
Bankroll Management
Online Poker
Managing your bankroll online is easier than ever. You can set strict limits, track your spending, and access detailed records of your play. Online poker sites also offer various tools to help players stay within their budget.
Live Poker
In a live casino, managing your bankroll involves physical cash. It's crucial to keep an eye on your chips and cash at all times. While this adds a tactile element to the game, it can also lead to more impulsive decisions.
Player Skill Levels
Online Poker
Online poker platforms attract a broad range of players, from novices to seasoned pros. You'll encounter a diverse field of opponents, which can be an excellent learning experience. Just be prepared for unpredictable playing styles.
Live Poker
In traditional poker, your opponents often consist of local players who frequent the same casino. Over time, you'll become familiar with their strategies and tendencies, giving you an edge if you can adapt to their playing styles.
Conclusion
The beauty of poker lies in its versatility. You can seamlessly transition between online and live play to enjoy the unique qualities of each. Ultimately, your ideal poker experience hinges on finding the right balance that aligns with your skills, goals, and lifestyle.