The world of casino gaming is constantly evolving, and players and industry professionals alike need to stay up to date on the latest trends. In this article, we'll take a look at some of the exciting new developments in casino gaming and what we can expect to see shortly.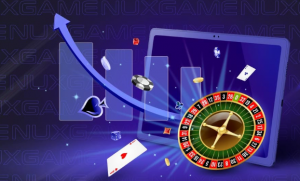 Virtual Reality Gaming
One of the biggest trends in casino gaming right now is virtual reality (VR) technology. This allows players to immerse themselves in a fully-realized 3D environment, complete with realistic sounds and graphics. VR gaming has already been successfully implemented in some casinos, and it's only expected to become more prevalent in the coming years.
VR technology is becoming more accessible and affordable, and many casinos are starting to incorporate it into their gaming experiences. With VR gaming, players can immerse themselves in a 3D virtual world and interact with their environment in real time.
Mobile Gaming
Another trend that's been gaining momentum in recent years is mobile gaming. With more and more people accessing the internet from their smartphones and tablets, online casinos have had to adapt to provide a seamless mobile experience. This means that players can now enjoy their favourite games on the go, wherever they are.
Mobile gaming has been on the rise for years, and it shows no signs of slowing down. Casinos are increasingly developing mobile versions of their games and apps, allowing players to gamble on the go. Mobile gaming is convenient and accessible, which is making it a popular choice among younger players and those who prefer to gamble from the comfort of their own homes.
Skill-Based Games
Traditionally, casino games have been based largely on luck. However, a new trend is emerging in the form of skill-based games. These games allow players to use their abilities to influence the outcome, rather than relying solely on chance. This opens up new possibilities for players who want to test their skills and potentially win big.
Skill-based gaming combines traditional casino games with elements of skill-based games, such as video games. This allows players to use their skills to influence the outcome of the game and potentially win more money. Skill-based games are becoming more popular because they offer players a chance to use their skills to win, rather than relying solely on luck.
Cryptocurrency
With the rise of cryptocurrencies like Bitcoin and Ethereum, more and more online casinos are starting to accept these digital currencies as payment. This not only provides players with a greater degree of anonymity and security, but it also opens up new markets for casinos to tap into.
As cryptocurrencies become more widely adopted, we can expect to see even more online casinos accepting digital currencies as payment. Additionally, we may see the development of blockchain-based casinos, which would offer a high level of transparency and security for players. These casinos would use smart contracts to automate the gaming process, ensuring fair play and timely payouts.
Artificial Intelligence
Artificial intelligence (AI) is another trend that's starting to make waves in the casino industry. By using machine learning algorithms, casinos can better predict player behaviour and tailor their offerings accordingly. This can lead to a more personalized and engaging experience for players.
Artificial intelligence has the potential to revolutionize the way casinos operate, from identifying at-risk players to creating personalized gaming experiences. In addition, AI can be used to optimize the gaming environment, such as adjusting lighting or music to create a more immersive experience. Furthermore, AI can be used to develop more advanced chatbots and virtual assistants, improving the customer service experience for players.
Social Gaming
Social gaming allows players to interact with each other and share their experiences. Many casinos now offer social gaming options, which can be played on social media platforms like Facebook.
Live Dealer Games
As live dealer games continue to grow in popularity, we can expect to see more casinos offering a wider variety of games with live dealers. Additionally, casinos may experiment with different types of dealers, such as robots or virtual avatars. These advancements would provide even greater variety and choice for players, creating a more engaging and immersive gaming experience.
Finally, live dealer games have been steadily growing in popularity over the past few years. These games allow players to interact with a real-life dealer via video stream, adding an extra layer of authenticity to the online casino experience. As technology continues to improve, we can expect to see even more advanced live dealer games shortly.
Final Thoughts
In conclusion, the world of casino gaming is always changing, and players and industry professionals need to stay up to date on the latest trends. From virtual reality to cryptocurrency, several exciting developments on the horizon are sure to shape the future of the industry.